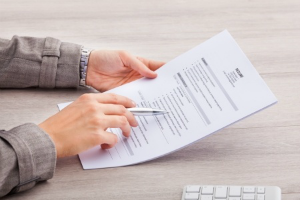 Standing out for the crowd to get GP locum work can be difficult. You have worked hard to get your qualifications and build up your experience now you need to show what you can do. When you want to showcase your experience and skills in the best possible light to a potential employer. Ensuring your CV is up to date and correct is crucial for helping you to get locum work.
There is no set format for a CV. In terms of layout, make sure that the font is plain (such as Times or Arial), it is maximum two pages long and that it is appropriately spaced. Use bullet points to create a sense of white space and encourage ease of reading.
The most important factor to consider is the relevancy of the information on your CV for the position you are applying for. If you are applying for a position as a GP locum, make sure that your resume has an emphasis on the relevant skills and experience for that position.
What a GP Locum should include in their CV:
Contact details
The practice manager will need to contact you. Include your name, address, phone number, email address and LinkedIn profile URL to view your experience and if you have recommendations.
Opening statement
Opening statement or summary (one or two sentences). This should answer who you are and what you can offer over other candidates.
Skills
A list of bullet point of your skills so the practice manager at a glance knows you are a perfect fit. This can help capture the recruiter's attention and urge to continue reading.
Work experience
List your relevant jobs and name of organisation in date order – this is not a list of what you done this should be a list of what you contributed to and achieved. The key skills you have used and the experience you accumulated over the years. Use words like I was responsible for X number patients, I managed, I monitored, I helped etc.
Education
List of educational achievements. This most recent should be listed first and also just mention the highest grade. You can also include a list of courses you have taken along with education if you feel it will be of benefit.
References
List two references – one you currently work with or last worked with and another you used to work for in the past or knows you well.
If you are in the process for looking for GP locum work check out BeeFound. BeeFound is an availability search engine for GP and medical practices. It makes it easier to be a GP Locum. Instead of searching for work, let practices find you based on your actual availability. Register for FREE today.